Hampton Inn & Suites by Hilton Kelowna Airport
Kelowna, BC
Pet friendly rooms are located on the first floor and 2 medium sized pets (50kg) per room allowed!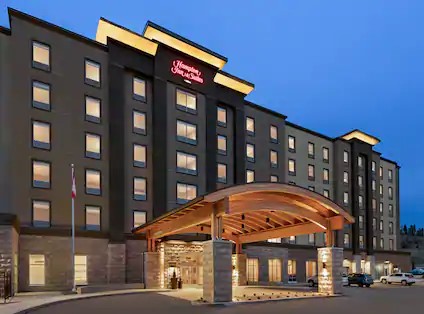 Nestled among the stunning mountains and lakes of British Columbia, our new hotel is right across the highway from Kelowna International Airport. Several golf courses, UBC Okanagan, and Okanagan Lake access are within 10 km. Free breakfast, free WiFi, and  24-hour airport shuttle are included.
The Hampton Inn & Suites welcomes up to 2 medium sized pets (50kg) per room. Pet-friendly rooms are subject to availability as the rooms are exclusively located on the 1st floor. The hotel requests that vacationers contact the hotel directly at the time of booking to ensure a pet-friendly room is reserved.
**Pet fee of $25 per night, per pet. Service animals stay free of charge with proof of documentation.
Contact Info
Address: 1665 Innovation Drive
Kelowna, BC
V1V 2Y9
Phone #: 250-765-9042
Email: info@hamptonkelownaairport.com
Website: https://www.hamptonkelownaairport.com