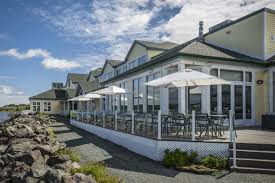 Situated on the banks of the Miramichi River in Miramichi's Historic Water Street Business District, this premier hotel is a short drive from Moncton, Saint John, and Fredericton. Perfect accommodations for snowmobiling enthusiasts, for it has the ambiance of a traditional New Brunswick lodge with all the amenities of a 4-star hotel. Limited indoor sled storage and drive-up units are offered to their guests. The trails are groomed right to their door! A garage and fuel are available near the hotel.
While in Miramichi during the summer months, enjoy fishing, golfing, tour the many historic sites, and be sure to visit Kouchibouguac National Park Beach which boasts the warmest salt water north of Virginia.
Pets are accepted at no fee. They do request that they are notified at the time of reservation as they do have some rooms set aside as non pet friendly rooms for individuals with allergies.