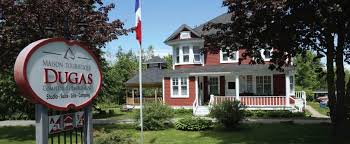 Located near the Bay of Caraquet, New Brunswick, you will find Maison Touristique Dugas. This B & B has its own distinctive characteristics and style. You can apppreciate the great sea air, especially with direct access to the beach, a warm welcome and quality service.
Because of its geographic location, in the centre of the Acadian peninsula, the Maison Touristique Dugas will make your stay all the more enjoyable.
These pet friendly accommodations allow pets in certain unites located in their B & B, areas for camping and cabins. There is a daily fee and the dog or cat has to be kept on a leash at all times. Pets cannot stay in a unit or outside all day long alone.
Activities to check out while you are visiting the area include sporting events, parades, dances catchy, music and clatter happily coexist, inviting everyone to have fun. The activities do not miss the rest of the year. The Gala de la chanson de Caraquet Acadian Festival will introduce you to talented artistes Acadia and elsewhere, there is also the International Festival of Chamber Music of Chaleur Bay at Dalhousie, the International Festival of Baroque Music Lamèque, the Festival of fisheries and aquaculture in Shippagan and the International Francophone Film Festival in Acadie.