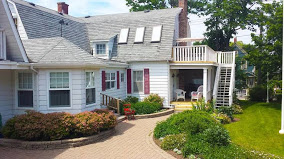 This home in Shediac, New Brunswick, was purchased in September 2008 by two sisters from Alberta with the dream of running a bed and breakfast. La Louisianne was constructed around 1914 by the Webster family, owners of the Shediac lumber mill. The original interior wood bears the Webster mill stamp. The older section of this charming home boasts four bedrooms and three bathrooms.
They only accept pets (small to medium sized dogs and cats) by reservation in the" Loft ". Pets cannot be in the house due to allergies of the guests. With approximately 600 Sq. ft. of living area, the Loft is a perfect get away for two to four guests. Completely separate from the main house with room to relax as well as a private balcony. Features a private entrance from the gardens.
Pet owners must do diligent "poop" patrol". They can always come to the house for bags and they have a can for disposal. No pets are allowed on the furniture and they appreciate those who bring taxis for their pats to sleep in.
The owners of this B & B understand that people like to travel with their pets and they like them too.